The M5A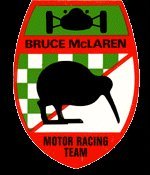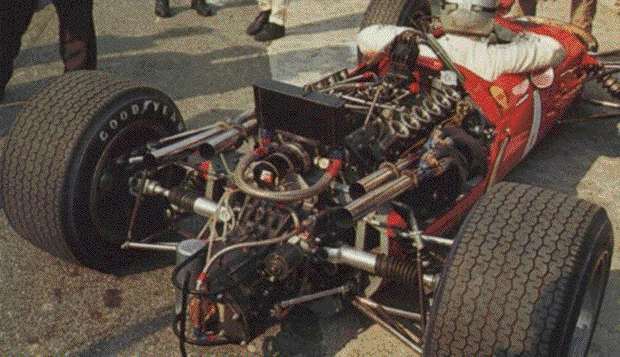 " Another F1 one-off, but purpose built for a BRM V-12 in full 3-litre capacity. The chassis followed M4 lines but the main fuel tanks were within the side pontoons so there were no extemporary bulges (additional fuel was carried above and below the driver's legs and the extensions from the monocoque that supported the V-12). Suspension followed existing lines. This car was competitive - McLaren challenged for the lead in the Candian and Italian GPs with it in 1967, but it was placed in the points only once, when Hulme was fifth in the 1968 South African GP. After that it was sold to Jo Bonnier who raced it late in 1968, and was sixth in the Italian GP. "
- 'A - Z of Formula Racing Cars 1945-1990' by David Hodges
Technical Data
M5A
Chassis: Aluminium alloy panelled monocoque formed over mild steel bulkheads with long pontoons at the rear to support the V-12 engine
Suspension: Single top link with radius arm, lower wishbone, anti-roll bar and outboard coil spring/shock units in front, and outboard coil spring/shock units at rear. McLaren cast magnesium wheels, 13 x 8½ fronts and 15 x 12 rear.
Brakes: Lockheed discs and calipers all around.
Body: Formed by monocoque sides apart from fibreglass nose cone and cockpit surround.
Engine: 3 litre BRM V-12 with Borg & Beck clutch and Hewland DG 5 speed transaxle.
Dimensions: Wheelbase 96 inches, front track 58 inches, rear track 58 inches.
Bruce McLaren

Bruce McLaren was a truly extraordinary man. While being one of the finest drivers of his day, he was also an exceptional engineer and designer. Bruce McLaren is one of only three men to perform the incredible feat of winning a Formula One Grand Prix World Championship race in in a car of his own making, joining Sir Jack Brabham and Dan Gurney in this accomplishment. In all likelyhood, no one will duplicate this.
In 1966 McLaren introduced the first purpose-built F1 car, the M2B, which used a modified Ford Indy V-8 or Serenissima V-8. While a great technical success, the car was somewhat underpowered and was never very competitive. This car began the distinguished line of McLaren F1 cars.
Other notable accomplishments;
From 1967 to 1971, McLaren cars won five straight Can-Am championships, coined 'The Bruce 'n Denny Show' because of the dominance exhibited by McLaren and Denny Hulme.
McLaren cars won the Indianapolis 500 in 1972, 1974, and 1976.
Bruce McLaren won the 1966 Le Mans 24 Hours, teamed with Chris Amon.
While teamed with Mario Andretti, Bruce McLaren won the 1967 12 Hours of Sebring.
In the 1958 German Grand Prix at the formidable Nurburgring, Bruce McLaren won in the F2 class, with only four F1 cars finishing ahead of him in an event that saw both F1 and F2 cars race at the same time.
In 1959, at the age of 22, Bruce McLaren became the youngest driver to win an F1 Grand Prix, when he won the United States Grand Prix at Sebring.
Since 1966, The Formula One racing team started by Bruce McLaren has been unrivalled in it's success. The list of drivers who have tasted victory in a McLaren is a long and distinguished one; McLaren, Hulme, Fittipaldi, Hunt, Mass, Revson, Prost, Senna, Hakkinen, and Coulthard to name a few.
On top of being one of the finest drivers and engineers of his day, Bruce McLaren was also a true gentleman, rarely seen in modern racing. Pete Lyons said in the Motor Sports Hall of Fame that Bruce McLaren was "universally well liked and remarkably self effacing. He never claimed to be the world's fastest driver and often smilingly discounted his own engineering ability. "Make it simple enough so even I can understand it," he'd tell his team. But his own work at the drawing board and in the cockpit resulted in racing machines that vanquished all comers."
In 'McLaren – A Racing History', Geoffrey Williams states that Bruce McLaren was "The most universally liked driver of his era."
On 2 June 1970,while testing the M8D-Chevrolet Can Am car at Goodwood in England, the rear-hinged bodywork suddenly flipped open and the car veered uncontrollably into a nearby concrete marshal's stand. Bruce McLaren was killed instantly. He was 32 years old.
----------------------------------------
Before and After the M5A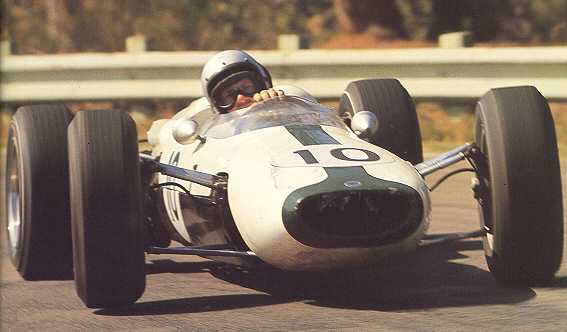 1966 M2B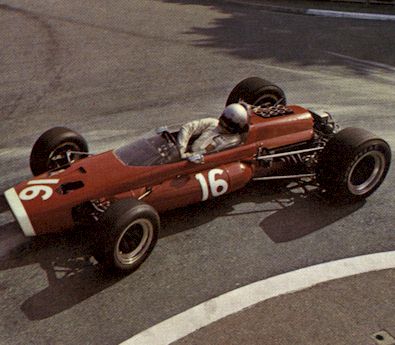 1967 M4B. An interim car that was basicly an M4 F2 chassis with
a 2.1 litre BRM V-8 and Hewland FT200 transaxle. This car was
used until the M5A was ready.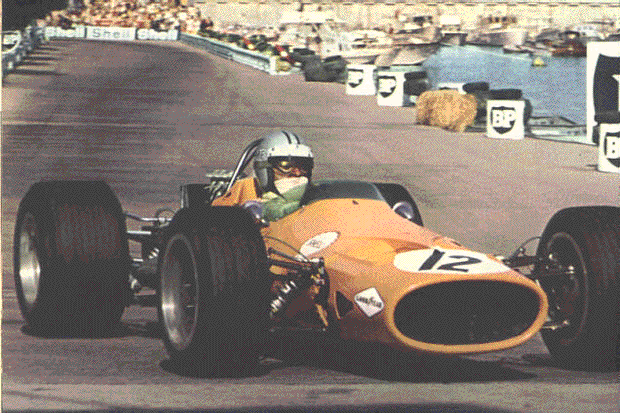 The car that followed the M5A in 1968 was the M7A, with Ford Cosworth power. Bruce McLaren would score the
marque's first victory in this car, at Spa. Denny Hulme would also win at Mosport and Monza later that same year.
The picture above is Denny Hulme at Monaco.